Discussion Starter
·
#1
·
Hey guys, new to the forums, just picked up a 2007 Summit 800 and after about 200 km's I had a leaking gasket leading to a top-end rebuild. Anyways, sure glad I found this forum as it has helped me a lot up to this point with the rebuild and lots of other routine maintenance that I'm performing.
Today, I took the clutch apart for the first time and noticed that there are two washer type pieces of metal in the sheave that moves, but it appears there is space for a third. I'm 99% sure I didn't lose one when taking the clutch apart. Should there be a third, or are these some sort of weights that there is only supposed to be two in my clutch? The picture shows what i mean..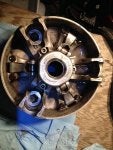 Thanks again for the help thus far, looking forward to sharing what I learn as I dig into this sled.