Discussion Starter
·
#1
·
Little wordy but bear with me. 2013 Summit 800 Etec. I put some cast pistons in it last fall, around 3500 miles; same compression height as the stockers (I measured) but with a 0.6mm base gasket (0.7mm was stock). Never checked squish, just ran it. Ran great (better than ever). Put close to 2000 miles on last year.
This fall, checked compression. 90psi PTO, 75 MAG. Cheap gauge, but 15psi difference is not going to fly. Crank runout was 0.0045" PTO, never checked MAG. I picked up a trued crank, and set of RKTek Wossner's. I put the bottom end together earlier today, top end this afternoon with another 0.6mm gasket.
Start checking things. Crank, nice & true (0.001" or less both ends), turns nicely. Good so far. Checked piston projection (as per BRP manual): 0.084" measured. Doo specs 0.072-0.076". Hm, that's going to be a little tight. Squish is at 0.025". I knew that was tight. Jump on here, people are saying 0.040 is safe, 0.030 is tight. No one talked about anything tighter. Why is it so tight? Wossner's too tall? No. Different crank, yes, but an OEM reman, seems unlikely the rods are longer. Same cylinder, same case. Just how tight was it last year? When I pulled last years pistons, I noticed a small shiny spot on the exhaust side, right at the piston edge. Figured it was a touch lean. Not quite; there's a matching spot in the head. Piston was kissing head!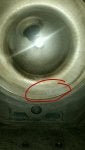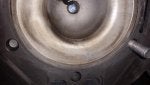 Yikes..
Check your squish when you're changing things, even if it's just 0.1mm on the base gasket. Doo may not have built your's as loose as the internet will lead you to believe.
BTW, no evidence of detonation and this thing really ran well last year. So tight is good, but not this tight!