Discussion Starter
·
#1
·
Seeing I am not riding this week I did some maintenance on my two sleds. One has 15,500 miles and the other 11000 miles.
I upgraded the torsion springs on both as they were sacked and the sleds looked like a low rider without anyone on them.
In addition, I was getting nervous as to the shape that the two large bearings behind the driven clutch were in at that mileage, especially after seeing pictures of one seizing on the shaft causing it to cut the shaft off and cause a pile of damage to both clutches.
That being said, I replaced both bearings with new bearings from the dealer at $25 CDN each. These are Japanese NSK Bearings and I do not know if they have any special grease of if BRP buys enough of them that they set out their own specs but to say the least I am impressed.
I popped off the outer grease seals on both for comparison and although there is 4000 miles difference, there is not that much difference in the amount of grease remaining in either and both could go a long long way.
Bottom line, is that if you are worried about these bearings at lower mileage, I would not be.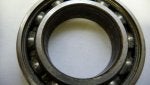 View attachment 1273489