I'm planning to buy a new helmet as I sold my previous 3 with my sled when I sold it a couple of years ago. As I plan to rent some sleds in March to see what I like.
Anyways, I've tried on the FXR Helmet's and I like the fit on my noggin, but unsure what goggles to get to go with the helmet. I'm leaning towards the FXR Mission Sno Goggles, as I figure FXR goggles will fit an FXR helmet best. But I've never owned any FXR goggles, so that's where you guys come in. I need your honest opinion on these goggles with this helmet.
I'm leaning towards FXR becuase there is actually a FXR store about 20 minutes from my home. That would make returns and warranty claims much easier than dealing with a 3rd party dealer.
Color of the goggles are not imporatant, just want a good fitment in the opening(Minimum gap between the helmet and goggles.
My last snoX helmet was a Ski-Doo SnoX helmet and I paired that with SpyOptic Targa's. I found that worked good, but I won't bet buying a Ski-Doo helmet this time.
Needs:
-Fit well in FXR Blade Super Lite Helmet(No gap between helmet and goggles)
-Nose guard
-under $150 CND
-No fogging
Picture of helmet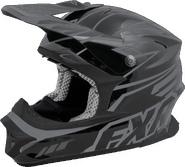 Feel free to post a picture of your goggles on your helmet to show fitment.
Thanks Adam