·
Cadillac mountain Enduro
Discussion Starter
·
#1
·
Here we go , made some changes to my RS this year and now it's one slow puppy and it jest don't make sense . Top speed last Friday was 75mph flat out pulling 8000 rpm , now I've have geared down from 26/45 to 24/45 so that I could do a revers from a XR , before the gear down with 26/45 it would hit 111 mph on a really good day and break into 100 at any time , now with the gear down to 24/45 getting 75 took some space and a don't care if I blow this thing up attitude WIDE OPEN TOO LONG ... ........... according to DJ's site it should still be good for over 90 mph ,,, here are some photos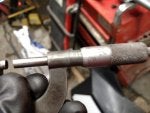 as you can see it's not going all the way to the top , but close with in a 1/4 of it on the primary .
and its going all the way to the bottom of the secondary . see the black marker in front of the screw driver tip .
this is what DJ's graf said it should do if it hits overdrive , IS the RS even have that ? I don't know .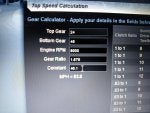 and this is what it should do at 1 to 1 . 75 is a far cry from 92
Now mind you that I got no sense of smell because of my injury but all of the guys I ride with say they don't smell any belt burning when we stop , the clutches are warmer than what I would want to hold on too for a lanth of time but don't seam hotter than the ones on my buddys sleds ether , belt is like new may have 500 miles on it . any Ideas ?????