Was out riding this past weekend when my '13 Backcountry 800 which had a CV tech short block installed about 14 months ago, lost power instantaneously and threw a knock code. I've been down this road before so I pulled the spark plug to find it bent out of shape severely.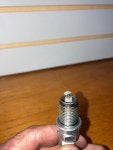 We towed it home and when I compression tested it, the PTO side only had 100PSI.
I didn't know what the cause was yet so I did a leak-down test and it held for 30 minutes. I then found the broken rave valve as I tore the engine down, and a slightly melted piston. The head has no marks in it fortunately and it appears that the chunk of metal had been shot out of my exhaust before any more damage was done, as I cant find any fragments in the pipe or engine.
My question is, what would cause this? Is it possible the exhaust valve came into contact with the piston rings? What can be done to reassure I don't have this happen again? The valves were cleaned and had them synced by dealer when the shortblock was installed 1300 miles back.