Posted 03 January 2007 - 01:17 PM
I have 310/320, LC domes, 91-93 octane. It seems a little rich if I'm above 25-30 degrees F.

---
Posted 03 January 2007 - 03:45 PM
If you get LC heads, you can jet down to 300-320 depending on your particular sled.

Trust me, your burn down was due to lean jetting. 280 is NOT stock from the factory. When a 440 comes from the factory it has jets so rich that it won't even run....to prevent things like this.

Just curious, how does the sled run when the switch is bumped to the 100 position?

---
Posted 03 January 2007 - 09:34 PM
It says right on my belt guard that that is the stock jetting, and if it was from jetting, why didnt the other piston burn up?
And the sled just runs kind of boggy, not all the power is there when it gets switched to 100 octane.

---
Posted 03 January 2007 - 10:13 PM
I would say the stuck ring would be more from poor lubication than fuel. Less fuel just bruns a hole and it would go fast, not over a long period of time. My friend is running his 440 on 280 mains. I tried running 320's in mine and it wouldnt run, it was way to rich. My guess would be that the ring just got worn out and broke away, that would be why the head is all smashed up. I actually had a screw from the v-force reeds get sucked threw the engine and bent the ring. It took me almost 300 miles (no snow to test at home) before i found my problem, it threw me for a loop.
It's a sh&%ty feeling I've been there.

---
Posted 03 January 2007 - 10:27 PM
I did just clean them about a month ago, maybe some crap got in there after i got done cleaning them? Anything else that could be a possibility?

Do you'r reeds have screw holding them to the cage?
---
Posted 03 January 2007 - 10:54 PM
yes they do

---
Posted 04 January 2007 - 01:10 AM
If you got hc domes the end of the spark plug threads will be flush with the inside of the dome, if you have lc domes, the threads on the plugs will stick out into the inside of the dome farther.

---
Posted 04 January 2007 - 05:03 AM
I had a simular problem with my 06 motor. I got the sled used after the kid ran pump gas through it when it had HC heads. The sled had low compresion when I got it and it ran like crap so I had to lean it out to make up for it. you should check your compresion, it should be over 110psi. If it is under you need to jet down. check your plugs. Remember most race sleds come with race heads stock. Mine did.

---
Posted 04 January 2007 - 11:19 AM
You must be reading the jetting chart incorrectly. I would think you would read the XC racing part of the chart and 91 octane gas. It has been a while since I checked the chart, but all the '03 sleds that I have jetted end up at 320-350 with HC heads.

I think the post above is probably correct. Your sled had poor compression before it blew up (maybe a stuck ring or worn rings, or worn cylinder) and in order to make it run the jetting had to be brought down. This is very common, but do not rebuild it and start with the same jetting.

As to why one side went before the other, that is hard to answer without looking at the other side. There may have been signs of detonation on the other side too, but before it could implode the other side did. You may also have a bad seal on one side, you may have somthing plugging your main jet on one side, etc, etc.
I once saw an '03 that had a small, clear gas tank shaving on the main jet and you literally could not see it. It took a little digging to find that problem.

Sounds like your switch is correct because bogging is common in the 100+ position. Good luck with your project.

---
Posted 04 January 2007 - 12:38 PM
Yea i'll take a picture of the jetting chart, im positive that is stock for XC and 91 octane. And i think the reason it had a stuck ring was because i never fogged the cylinders, or hardly started my sled up in the summer, and the pistons had never been replaced, and before i got it, it was almost always ran with race fuel in it, so the pistons shouldve been replaced.

---
Posted 04 January 2007 - 08:34 PM
here is the jetting chart: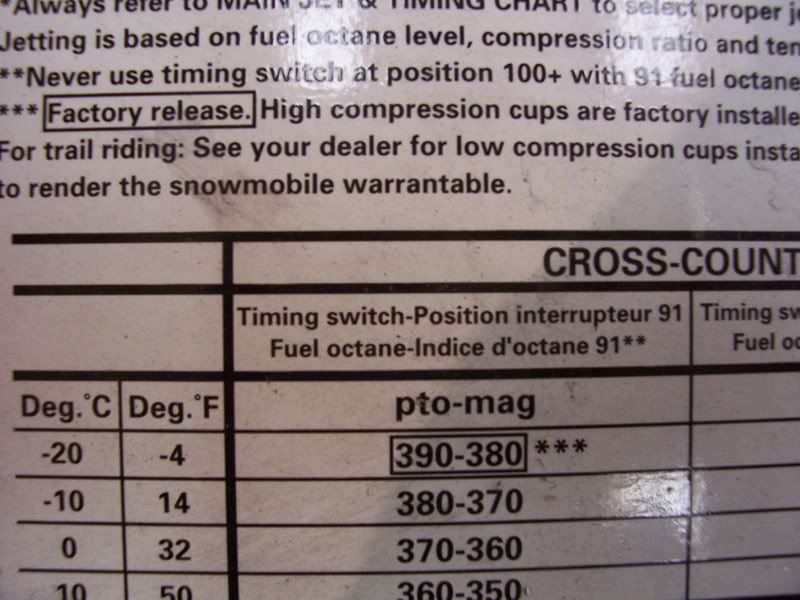 and also here you can see where a piece of the ring and piston actually broke off, and that got in between the top of the piston, and the dome, and smashed it up. If you look close, those are tiny marks from the pieces being smashed on the top of the piston. Which is why it doesnt have as much in the middle of the piston.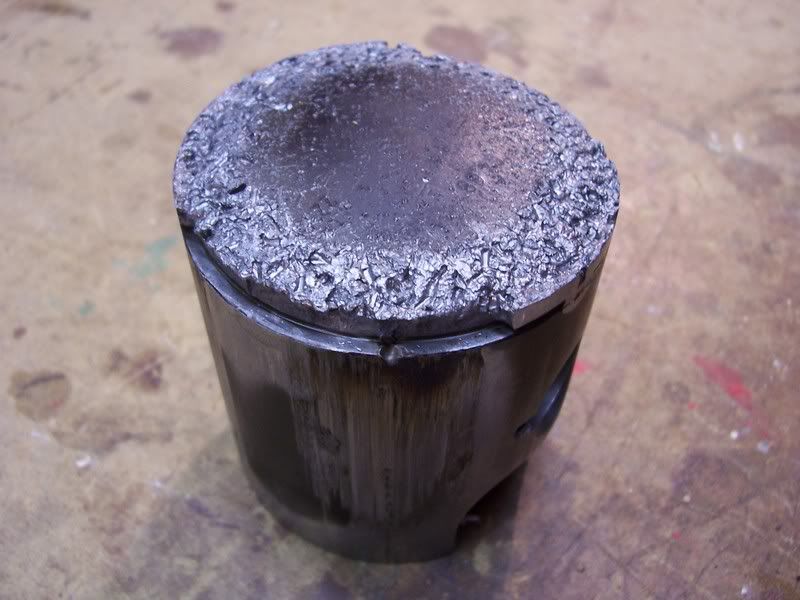 Also there are no signs of detonation on the the other piston, or dome. STILL think it was from detonation? Im not totally trying to prove you wrong, im just telling you what i see.
thanks a lot!
---
Posted 05 January 2007 - 03:01 AM
darn that hurts just lookin at it.

---
Posted 05 January 2007 - 11:40 AM
The chart says 380-390.
Ok, heres the deal: This summer i cleaned my Rave Valves, Carbs, and put a new Cam in my secondary clutch. I live at about 1000 feet, and i have
280, 290
jets in,
---
Posted 05 January 2007 - 12:36 PM
oh man, my bad, now i dont know if i have 280/290, or 380/390 sorry about that guys, im almost positive i have
390/380
ill have to check now...
---
Posted 08 January 2007 - 04:02 PM
Yes....definitely check to be sure.

Also, the reason you have more material missing around the edges and not the center is because the edges of the piston is where the compression takes place (the squish band) and in this area is normally the first place detonation happens when you run too low of octane or too lean of jetting or too much timing.

At first the detonation just pits the piston surface (looks like rust pits in steel), then the detonation keeps removing material until the edges start errroding. When this happens the rings lands get so hot the rings fuse into place and become stuck....NOT the other way around. Your rings are stuck BECAUSE of the detonation.

You must find the cause of the detonation and fix this first and foremost.

---
---